Driving by 285 Ontario Street I recall how, as a kid, I would press my face against the window of my Mom's Oldsmobile to try and spot my Dad's Suburban in the parking lot. Sometimes she would point to one of the windows on the third floor and explain to me that that was where her Father used to work. If I was with my Dad, he would point to the green-roofed outbuilding of the Forge and explain that that was where he was when he was away from home.
At its peak in the late 1970s-early 1980s General Motors employed approximately 9,700 people in manufacturing jobs at its two St. Catharines' factories
(i)
– Ontario Street and Glendale – locally known as Plant 1 and Plant 2, or The Axle Plant and The Engine Plant. As of last count, GM employs just under 5,200 people in manufacturing jobs across Canada, with less than 1,200 through the one remaining factory in St. Catharines.
(ii)
It is commonly said that:
"Each auto-plant job lost means the loss of four jobs in the region. Those are people employed by firms . . . which supply goods and services to the plant. They are waitresses in restaurants serving autoworkers and their families, supermarket workers and other retail store employees" (iii) (J Ritz, Buffalo News, 13 Dec 1992)

In 1993, when the employment numbers were at 8,000 for GM St. Catharines and the Niagara Region Population was just approaching 400,000, the St. Catharines Business Development Office is cited stating that 63,000 other workers in the Niagara Region were employed in some relation to the auto industry.
(iv) (v)
There was a community and a sense of pride around the factory and amongst the people that worked there. Social clubs, golf tournaments, retirement and Christmas parties, a Union Lounge, and at one time even Union-hosted family vacations at the UAW Education Centre in Port Elgin.
My Grandparents took their family to a UAW Vacation in 1972. My mother recalls horseback riding and swimming, shared meals and a community play where my Grandmother played the role of the sunset, as she wore an orange dress that day.
I have memories of attending Union-led Christmas parties for the children of employees at what was then the CAW Hall – now the Delta Bingo Hall.
The strength of the community around the auto industry in Niagara extended to institutions that now have no clear relation. The St. Catharines Autoworkers' Credit Union Ltd. opened in 1949 with their first office located inside the Union Hall at 3 Chestnut Street. After much growth they rebranded in 1981 as the Family Savings Credit Union. In 1999, Family Savings merged with the Hamilton-based Avestel Credit Union – which, in kin, was the union-led credit union for Stelco employees – to form what is now the FirstOntario Credit Union (vi) When reviewing the founding members list of the Autoworkers' Credit Union the member's jobs are listed:

"Operator . . . Trade Union Organizer . . . Core Maker . . . Machine Operator . . . Assemblyman . . . Machine Setter . . . Toolmaker…" (vii)

The credit union was founded by factory workers who wanted to improve the quality of life for the members of their community. The lack of a formal financial education did not intimidate or stop them from creating this meaningful and lasting asset.

I experienced two tours of GM Plant 1 on Ontario Street – the first was part of the "St. Catharines Components Plant Family Night 1997", and the other was with "Take Your Kid to Work Day" in fall of 2008 – one of the last that Plant 1 hosted. As a small child it was the loud noises and towering equipment that made its impression. As a teenager it was the shrunken operations that stuck in my mind.

The Ontario Street factory closed in 2010. It took GM years to sell the property and the company that initially purchased it in 2014 ran into financial difficulties. The factory has been stuck in variations of a half-demolished state since 2015. As of 2020 that developer had officially abandoned the site, and as of writing it is listed for sale again.

The large piece of machinery that was left on site is the frame for the Ajax 2500-ton press. This press made connecting rods for engines. It was known as the #6 Press, one of 8 of this type of press. There were 21 hot steel presses in the Forge when my Father worked there. My Dad has explained that the foundation of this remaining press is cracked, making it difficult to move and not worth selling.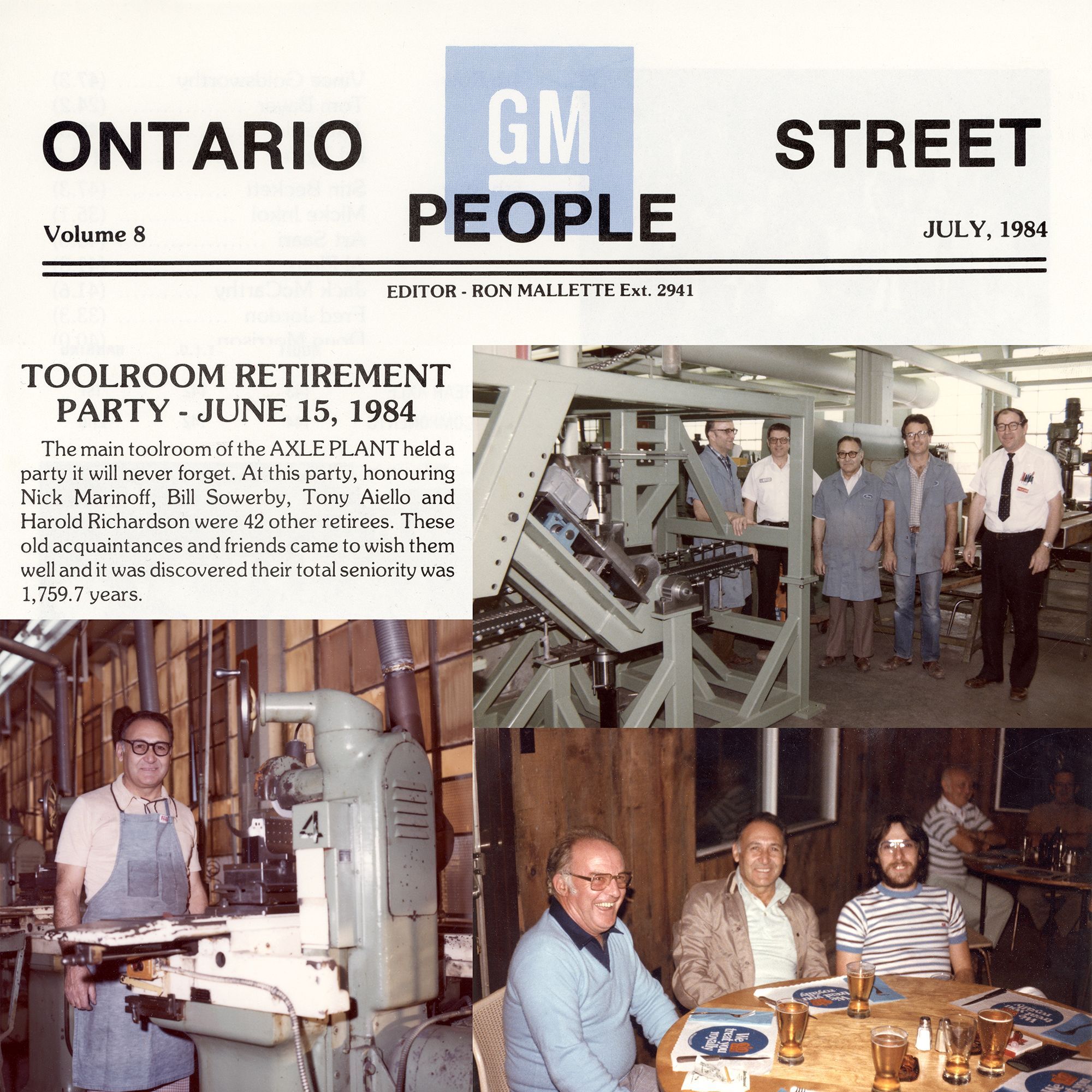 This site at 282 – 285 Ontario Street has hosted a factory for over 100 years, starting with McKinnon Industries which began operations on the site in 1901.(viii) Looking at this place that most consider an eyesore or a health hazard, I see the generations of workers who spent countless hours of their lives here.

My Grandfather retired after 38 years with the company in 1984, the same year that my Dad started. My Grandfather worked in the Tool Room as a Precision Tool and Die maker, my Dad in the Forge as a Press Operator. My Dad and Grandfather didn't know each other at work - my parents met years later and by the time they got married my Grandfather had passed away. The cause was aggressive pancreatic cancer, 7 years after his retirement, at 72 years old.

My Grandfather first started working at GM sometime in the 1940s. He quit at least twice. The job provided him with a good paycheque but not much existential fulfilment. He returned in 1950 when he got engaged to my Grandmother and, four kids later, he stayed with the company for the rest of his working life.

My Dad retired in 2009, one month after his 50th Birthday – he knew the odds. Two years prior a friend of his, who also worked in the Forge, passed away of cancer at the age of 56, only 6 months after retirement. From that point forward my Dad started counting the days until he could get out.

There are many cases of ill health and short-lived retirements among those that worked at any factory. It is hard to pinpoint the exact cause – in the case of my Grandfather he also worked on farms, handling unknown chemicals – his first bout with cancer was almost 30 years prior. Amongst factory workers at the time there were many heavy smokers and drinkers and other things that we now see as red flags in regard to health. Still, manufacturing environments and the chemicals that come with it are suspect contributors.

When asking my Dad to describe the layout of the factory he brought up a section nicknamed by workers as "Cancer Alley". This alarmingly named part of the factory had gained this name while it was still in operation. It was a Machining Line, with high rates of cancer among those who worked there, possibly due to the Machining Fluid used in the process.

Illness is on top of the daily perils of working in an environment with such large moving parts. The infamous Ontario Street Smokestack is responsible for at least two deaths in recent memory. (ix) Most internal accidents that didn't result in a fatality never even got press.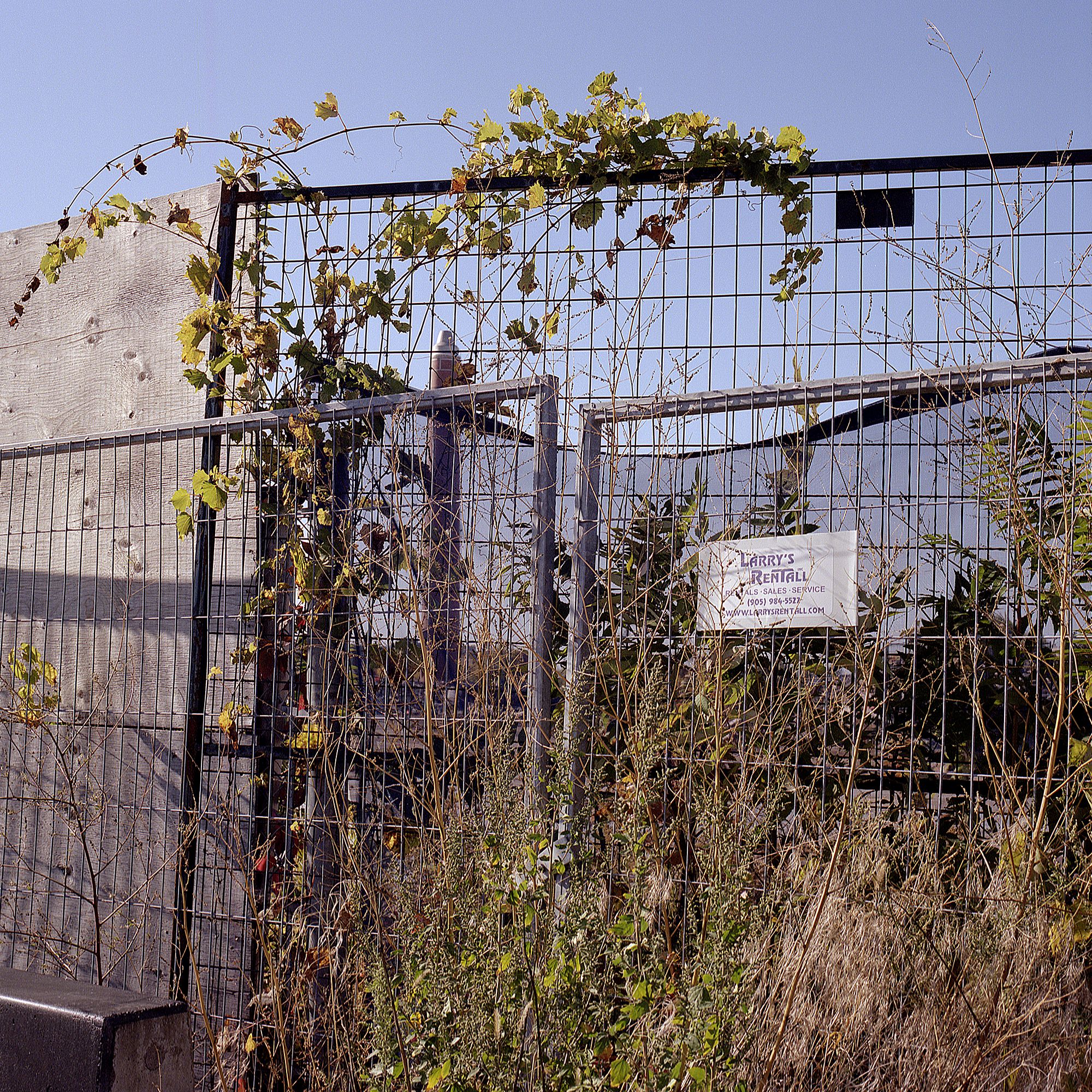 After my Grandfather passed, my Grandmother received a Survivor's Pension and full health benefits until her passing over 30 years later. To have this kind of pension and benefit system is inconceivable to most people under 35. The wages and benefits that were negotiated for workers through Union Bargaining are what lead my family to middle class stability – they are what let my mother be the first in her family to attend and graduate from university, they are what paid for our house, our cars, and my education. The prosperity and education of many of my cousins and I can be traced back in part to the stability of the union jobs that our grandparents and parents had.
When nostalgia for 'the good old days of manufacturing jobs' gets brought up, it is easy to gloss over the history of the labour involved and make the mistake that it is the job itself that is missed. There are many downsides to working in a factory – it is repetitive work, manual labour, and years of exposure to industrial chemicals and processes can lead to negative health effects for both employees and those that live in the vicinity of the factory.
What is missed is the 9,700 jobs that pay a wage that amply provides for a family of 4 to 6 on a single income, obtainable without a high school diploma. GM was not the only industrial job that provided this in Niagara. Ferranti-Packard, Atlas Steel, Hayes-Dana, and John Deere are just some of the major industrial employers in the region that closed their local operations in the last 20 years.
This is but one personal case study in the myriad of lost industry of the Niagara Region. Would the return of the Niagara Region as a manufacturing hub provide a sustainable solution to the region's economic woes? No, it would not. What is missing in the region is sufficient work at wages high enough to sustain a well-balanced life at the Niagara Region's new inflated cost of living. The last time that such security was widespread was when manufacturing was a leading industry.
We are at a new turning point now, where going forward with electric vehicles is certain. At some point in the near future the types of products made here, and the methods used to make them, will be obsolete. Gasoline engines will be no more, and Connecting Rods are only used in combustion engines.

The region has yet to find a long-term replacement for the volume of quality employment that was lost and, mirroring the 285 Ontario Street site, all parties involved appear stagnant in forming a new path forward.
(i), (ii), (iv), (v) Ritz, Joseph P. "ST. CATHARINES IN MOURNING FOR LOST JOBS RIPPLE EFFECT OF GM'S CUTBACKS LEAVES CITY REELING" [Buffalo, NY, USA]. Buffalo News, 13 Dec. 1992, buffalonews.com/news/st-catharines-in-mourning-for-lost-jobs-ripple-effect-of-gms-cutbacks-leaves-city-reeling/article_9956e40c-335b-54fa-871f-8b06c6391e76.html target="_blank">buffalonews.com/news/st-catharines-in-mourning-for-lost-jobs-ripple-effect-of-gms-cutbacks-leaves-city-reeling/article_9956e40c-335b-54fa-871f-8b06c6391e76.html target="_blank">buffalonews.com/news/st-catharines-in-mourning-for-lost-jobs-ripple-effect-of-gms-cutbacks-leaves-city-reeling/article_9956e40c-335b-54fa-871f-8b06c6391e76.html


(iii) "GM Canada Fact Sheet." General Motors Canada, General Motors Canada, 17 Jan. 2021, https://media.gm.ca/dld/content/Pages/news/ca/en/2021/Jan/0118_brightdrop/_jcr_content/rightpar/download/file.res/GM%20Canada%20Facts%20Sheet_Jan17.pdf
(vi) Statistics Canada, 1991 Census of Population, Statistics Canada Catalogue no. 95F0168X.
https://www12.statcan.gc.ca/English/census91/data/profiles/Rp-eng.cfm?TABID=2&LANG=E&APATH=3&DETAIL=1&DIM=0&FL=A&FREE=1&GC=0&GK=0&GRP=1&PID=29&PRID=0&PTYPE=89103&S=0&SHOWALL=No&SUB=0&Temporal=2006&THEME=113&VID=0&VNAMEE=&VNAMEF=
(vii) 199 Admin. "FirstOntario Community Partner Since 1949." Unifor Local 199 Canada, 11 July 2019, https://unifor199.org/2019/07/11/firstontario-community-partner/.

(viii) 199 Admin. "FirstOntario Community Partner Since 1949." Unifor Local 199 Canada, 11 July 2019, https://unifor199.org/2019/07/11/firstontario-community-partner/.



(viii) "Know Your Neighbours – Lachlan Ebenezer McKinnon." St. Catharines Museum Blog, St. Catharines Museum, 9 Mar. 2016, https://stcatharinesmuseumblog.com/2016/03/09/know-your-neighbours-lachlan-ebenezer-mckinnon/

(ix) "GM Worker Dies in Industrial Accident." AP News, 22 Sept. 1992, https://apnews.com/article/c22d5a21c4cde1a63cb0fceb43c72a3b