Easter Notes





April 10, 2020
Good Friday
I am baking bread in my London flat.
There is a poster hanging in my kitchen that I bought for a Euro in La Sila National Park, drawings of the flora found there. Maria, a first cousin of my grandmother, and her husband Adolfo brought me there on Good Friday to see
The Giants of La Sila
. This time last year I was visiting my mum's family in Calabria for the Easter Holiday, lately they've been on my mind.
I haven't heard any news of them in the past few days. A week yesterday Maria's mother, Ziarella – the oldest member of my family and the last of her generation, passed away of Covid-19. As of writing this Maria and Adolfo are both hospitalized on ventilators, and that is the last news we have received.
We are in week three of isolation in the UK, with an uneasy picture of how long this will last.
There is a tradition in my family to spend the day baking on Good Friday – it is a common one in Italian households. As a child growing up in Canada I was not allowed to watch any television on this day - I'm still not sure if this a real tradition or just something my mum came up with.
There was a loophole to this rule – religious films, like
The Ten Commandments
or
Jesus Christ Superstar
, were allowed. I have guilt even at this age if I watch television on Good Friday, it feels like I'm disrespecting something – not religion, but my mother's wishes.
I am alone in the kitchen and I want something to break the silence. I find Pasolini's
Gospel According to St Matthew,
and turn it on to hear the Italian language more than anything else. It falls into the background as I attempt to follow my recipe, but the sounds of conversation comfort me.
The bread recipe that I use comes from a cookbook that my mother's sister Laura made,
Un Lavoro D'Amore
, it reads on the cover.
She made this book years ago after her daughters got married so that they would have copies of all the family recipes - recipes that are in variations of legibility, scrawled on stained cue-cards and scrap paper and kept in a plastic red box above my Nanna's refrigerator.
My aunt traditionally gives the book as a gift to all her nieces and nephews before they get married, but I asked for my copy when I was 22. Today I am making our Zia Lily's Easter Bread. My aunt has written a little story above the ingredients and directions:
We were in Italy for Easter in 2000. My cousin Maria, who lives in Rogliano, had invited us to her home for dinner. After dinner she told me that her hairdresser was a distant cousin of mine, on Dad's side. She had told him that we were going to be at her house over the holidays and he insisted that we go visit him in Figline, Dad's town. Maria knowing our tight schedule said that we probably wouldn't be able to see him. So he (very nicely) gave her an Easter Bread. "Give this to my Canadian cousin. My wife made it from my mother's old Easter Bread recipe." Maria cut the Easter Bread after dinner so we could all taste it. I took one bite and started screaming, "This is Zia Lily's Easter Bread!" "He told you its his mother's old recipe!" I realized then that we are still very connected to the "Old Country". It might be an old recipe, or a warm gesture, offering an Easter Bread to a stranger because they are distantly related, but it is still a beautiful connection.

As my dough rises I decide to revisit my journals from my visit last year.
Ziarella and Maria, Catanzaro, Pasquetta 2019
Notes
Calabria
April 18, 2019
6:45 am
Train to Stansted Airport
On this warm foggy morning heading to catch my flight to Calabria there is a lot going through my mind. How is it that I have full Italian heritage and yet I don't speak the language? My taxi driver this morning, who was from Somalia and fluent in three languages including Italian, thought it was odd as well.
Language has been of intrigue to me lately.
The regional dialects of Italy and how they're being lost - the homogenization of language. Just now on the train to Stansted, an announcement was made about flying with liquids, gels and aerosols and in every language the "new" words - the products of the 20th century - were all the same – "
Aerosol
" – but with a different ethnic inflection.
I've lost the language of my family, and in turn part of my history. How do I piece together a fractured cultural identity?
11:45 pm
After landing in Lamezia, Maria and Adolfo met me right at the gate with a big hug – it was warm and sunny and the drive to Rogliano was gorgeous. The last (and only other) time I was here we arrived at night and I couldn't take in my surroundings. The whole drive looked like a postcard.
Maria made a lovely lunch, and the whole family has welcomed me with open arms. I am staying in her older daughter's bedroom - she lives up north and can't make it home for the short Easter break.
After lunch I took a much-needed nap and awoke around 7:30 in the evening to come downstairs to find the priest having a chat and a coffee with Ziarella.
My language skills are improving. Zia is pleased that I am picking up the Mangonese dialect so quickly.
With dinner I tried Nespoli for the first time, a fruit that my Nanna reminisces about that is unavailable in our small town in Canada. All of the fruit here – even the lemons – are so sweet they make Coca-Cola seem bitter.

5:23 pm
Good Friday
I awoke at 8 am to head to La Sila National Park with Maria and Adolfo. Our first stop was Lake Arvo where I dipped my hands into the crisp waters – I forgot what clean water feels like on skin. The water in Lake Ontario doesn't have this smooth texture.
After Lago Arvo we went to see
The Giants of La Sila
– a forest of 350+ year old Sycamore trees that grow over 40 meters high. It was much colder here but the air felt fresh. Maria later informed me that the best air quality in Italy is measured in the park.
We stopped at a bar in a small town along the two-lane highway to have an afternoon bitter and then parked by the sci club for a picnic.
A cheese sandwich, a mandarin orange and Nespoli – its Good Friday, Italian Catholic tradition says we must abstain from eating meat.
In the afternoon we went to Cosenza, to the
Church of San Francesco
, a Calabrese Saint. Maria was telling me about a Calabrese Robin Hood-type character but I couldn't quite understand what she was saying. A man who was passing by tried to butt into our conversation and clarify the miscommunication, but he spoke Italian with a different accent and I understood him even less.
Following the church, we went up by the Public Gardens to tour the old theatre house, stopping for a gelato on the way.
The piazza,
Piazza XV Marzo
, has a school and civic library, municipal gardens, a statue of
Bernardino Telesio
- a Calabrese philosopher - and the government offices for the Province of Cosenza.
March 15th Square, named after March 15, 1844, the day that Italy was unified. Not knowing this most basic fact of Italian history, the name first brings up thoughts of Julius Ceasar and the Ides of March.
Maria and I went into the small garden of the Government Offices when the President of Cosenza came out and greeted us. It seemed like Maria knew him but I'm not sure now that she did. She explained that I was visiting from Canada and he told the guard to give us a tour.
While the President left for the day the security guard showed me around all of the meeting chambers and courts, even the President's office, which had a full plate of biscotti and dolci on the table.
The whole building was a work of art – from giant renaissance-style murals, to smaller details like the Cosenza Crest on the buttons of the sashes holding back the curtains. The offices were kept in immaculate repair, a presentation of hometown pride for those who remained in the region.
Maria mentioned afterwards that getting a tour like that doesn't usually happen – we got lucky. She casually added that maybe it was because I look
interesting
– which I think translates to young, blonde, tall and 'American' - other, yet still kin.
I'm exhausted from touring but I am at ease. My body always feels good in the Italian Sun.
Ziarella reminds me so much of my Nanna – her mannerisms, her hands, even her voice. It really makes me realize what family means. I had a similar experience the first time that I met my Zia Iolanda, my dad's mother's sister, in 2008.
It was less than a year after my Nonna passed away and my parents and I took a month-long trip to Italy, my first time there. We were invited to Zia Iolanda's for dinner.
My dad hadn't seen her - or been back to Italy - since he moved to Canada with his parents over 40 years prior.
We pulled up to a small gravel car park at the side of the road, slightly ahead of where our GPS said her house would be. We parked the car and started to walk down the steep driveway to the concrete house surrounded by olive groves and a black pepper tree. As we got closer she came outside. She looked and moved and spoke and laughed exactly like my Nonna – even her eyes glistened the same.
We hugged and she invited us in, everyone involved shed a small tear. That was the only time I ever met Zia Iolanda, she passed away before the next time we could return.
Today my Nonna would have turned 89, maybe that's why this has come to mind.
I think about how Ziarella moved across the Atlantic with her husband as a young bride in the post-war 1940s, had her children in Canada, and then moved back to Italy as a family in the late 1950s.
This choice confused many of our family at that time – it was seen that they gave up the opportunity of a new life in Canada - but now I realise that they saw something that was well foresighted.
There were a few reasons her husband cited for moving back to Italy, but it was largely based on his observation of his community in Canada and what he percieved as the lack of a future for his children. He saw that the future that Canada held for his kids was a labour job at Atlas Steel for his son, and a not many options beyond housewife for his daughter. Given the family's social and economic class in Canada at that time his children were unlikely to get an education past high school.
In a way he was right about that prediction - the first of our family to continue education beyond high school are at least 10 year younger younger than his children and separated by a generation.
His children got the opportunities he hoped for on return to Italy, with his son now an Architect and his daughter a Psychologist, both with successful practices.

Saturday April 20, 2019
3:09 pm
Dania, Maria's younger daughter, and her husband Giuseppe arrived late this morning. We went for a leisurely walk through Rogliano. There are twenty churches in this town of approximately 6,000 people.
Rogliano looks like a postcard of an Italian hillside town – it seems like a city compared to the hamlets of Mangone or Figline. The main church is Italian Rococo style with pastel shades of pink, blue and yellow to accent the main soft white interior. The woodwork is incredibly detailed – something that Rogliano is noted for.
Ziarella's husband crafted detailed murals from wood – a few of them are around the house, most depict religious subject matter.
As we walked around the town I noticed posters – obituaries and memorial notices, posted on buildings and fences in multiple spots around town – in the squares, near major roadways, and near places of significance for the person in question.
One of them was for Diego Montemouro – a relative of ours. He passed away about a year ago, his memorial mass is at 6 pm after I leave on Tuesday. He wasn't that old, maybe 60. He was named after my great-great grandfather, who himself was named after a Spanish Monk who once traveled through the village and gave my ill great-great-great grandfather a mystery medicine that cured his dire ailment.
In a small piazza in Rogliano at the top of some stairs, there is a garden with a bust of
Donato Morelli
– a local man who helped Garibaldi unite Italy.
When we passed by this monument Dania informed me that there is a local rumour that Garibaldi slept with a woman when he stayed at Morelli's house in Rogliano on his tour through Italy, "
una donna
" – said with a brow raise and a heavy emphasis on the latter consonants implying that she was a lady of the night. It seemed by her tone that townsfolk find this rumour comical and that it boosted Garibaldi's reputation.
Folk rumours like that are interesting to me. Another one that comes to mind is the rumour that when Mussolini was killed they cut off his dick, put it in his mouth, and hung him from a town square. My Nanna and other relatives who were alive at the time have mentioned this same lore on occasion, but I haven't been able to find any historical document of it. I assume anti-fascists spread this rumour to prevent a revolt, to scare small-town supporters into silence.
I've been thinking about who I am and where I belong and it is not something that I have an answer to yet.
What is Italian Culture? Italy wasn't united that long ago – what does it mean to be Abruzzese or Calabrese? What about the regional, or even town specific, languages? What were boundaries and customs of the ancient kingdoms? On the flip side what about The New World?
It seems evident now that the culture in Canada and America is not much more than varying distillations of capitalism. With the long-exploited
American Dream
having taken its final breaths sometime in the last decade, what – other than commerce or related activities - is holding people together in Canada and America?
1:07 am
Ziarella is like my Nanna's twin – it amazes me how similar they are – their voices and hands especially, but even in what they like to eat and their gestures. She is over 90, wears Versace glasses, and still has a fiery spark of joy in her nature. We went through photo albums and watched Dania's wedding video this evening.
Everyone gets along quite well, it's a very harmonious household, similar to the household that I grew up in with my parents and Nanna. I realise that my family is fortunate to be surrounded by so much love.
Post Easter Sunday
1:25 am
Easter Sunday was a full day - lunch at the house with Adolfo's sister (who lives next door) and her family, and Giuseppe's parents who came from Catanzaro. Maria made a lasagne and mushrooms from La Sila; Adolfo made his famous potatoes; there were four kinds of meat; Maria made a 'cucutz' – an Easter bread with whole eggs baked into it; someone brought a homemade lemon cake - more Nespoli too – a traditional Calabrese Easter feast.
Today reminded me of one Easter when I was a child, at my father's aunt's house in Canada around the year 2000. I was wearing an animal print spring coat that my parents had made for me when I was a flower girl in my cousin's wedding.
My Nonno was there, it was shortly before his Parkinson's developed. I think it was early April, I remember the weather being nippy. We have a photo somewhere of me and Nonno in the driveway - I'm wearing the coat I mentioned and Nonno is in a suit. The food, the atmosphere, the language, all brought me back to that day. That was a nice Easter as well. I'm happy to have these memories.
We went to church at
Santa Lucia
at 6 pm. Maria had gone early in the morning. Dania said the afternoon mass was too long so five of us, Dania, Giuseppe, his parents and I, went after our siesta. I got side-eyed looks from a few churchgoers – it is noticeable to be
other
in a such a small town. I didn't feel out of place but I did feel their eyes.
We are going to Catanzaro at 8 am. I had one more thought as I was watching
Solti Ignoti
on Rai with Zia. There is a lot of gesturing in the way Italians talk – with their hands and bodies but also with sounds.
Thinking about the kingdoms of pre-unification Italy, with all their dialects, this makes sense – it enhances communication when you don't fully (but partly) understand a language. With so may separate kingdoms and dialects existing in close proximity it can easily become an adopted way of speaking - it has been my necessity over the last few days.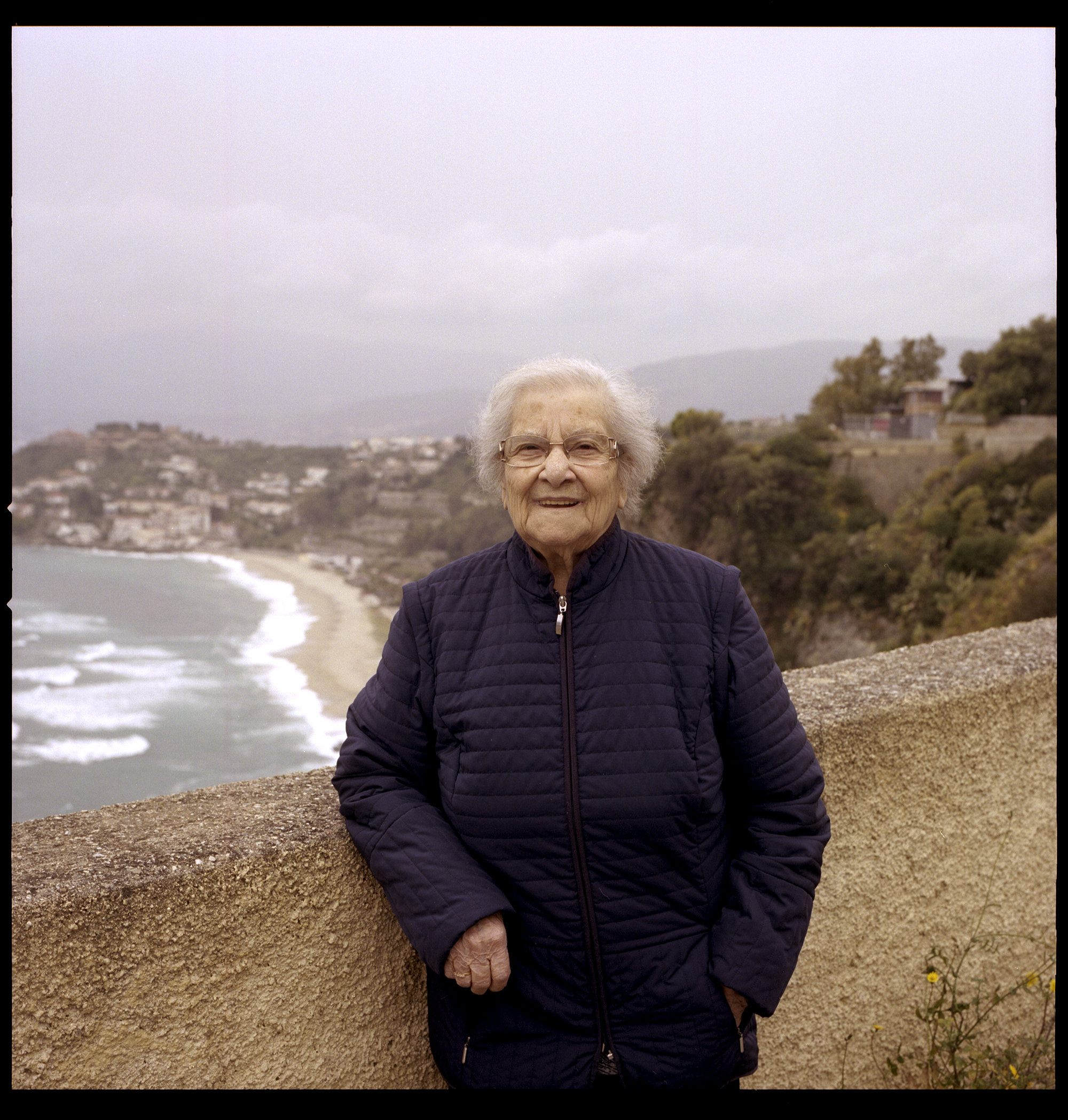 Ziarella, Catanzaro, Pasquetta 2019

Tuesday April 23, 2019
11:19 am
Ryanair to Stanstead
Living in a big city I never feel far from home – I know I can always catch a direct flight to Toronto and be home in a day if I need to be. In a place like Cosenza or Catanzaro I feel further away from Canada, but also more at home.
This trip was really beautiful, I want to come back – I didn't want to leave. I feel torn – I don't truly feel at home in Canada other than when I'm actually in my parent's home. My parents always talk about how the dream is to retire in Italy, live naturally and enjoy each day.
Funny how that is the dream for so many Italians in Canada. If my ancestors knew that before they emigrated, I wonder what they would have chosen?
Perspolis, Peckham
7:02 pm
I'm tired.
I got a horrible headache as soon as I got off the plane, I could feel the change in the air quality immediately. I arrived home to no electrics in the flat and no phone charger in my room. The emergency credit on the top-up electric meter had run out so I wandered to the Pelican and sat on a sofa with a drink and a book to pass the time and charge my phone.
I am back in London but I don't really know if I want to be here today.
I found the obituary for an old friend from back in New York while sitting in the Pelican. It has been a few weeks since he passed. His funeral is Friday as his family wanted to repatriate his body back to his home state cross-country.
His obituary read as though whoever wrote it hadn't talked to him in years, like they didn't really know him.
I realised - thanks to facebook - that today was the day that a childhood friend passed, seven years ago. Her birthday was the day before mine – she was barely 18.
This friend from NY had just turned 25. The cause of death for both of them was never officially announced, but was implied by the tone of following events.
That day seven years was rough. I was in English class - last period - with a full class and a substitute teacher, when the news broke via a BBM message to one of my classmates.
No one could process it - everyone was blindsided. Within 20 minutes it became apparent that what was happening was real. The substitute teacher got mad because we were on our phones – we told her to fuck off. She expected us to continue on as normal and work while the class was in collective shock, how we?
This childhood friend, her mother still posts occasionally on her daughter's facebook account, which I find unsettling. The account is still active as normal, not an "
in memorian
" account that you sometimes come across. I don't think her mum can handle fully letting go.
︎

Back in my London Flat, Easter Sunday under lockdown
April 12, 2020
7:40 pm
I stopped into the posh wine shop yesterday to purchase a bottle to go with Easter Dinner. I was surprised that they had one from Calabria – it's not so common to find.
I was chatting to the thoroughly-English shop keep about how it was comforting to find something that reminded me of my family when he so confidently stated 'Ah, Calabria! The dirty south!' and then proceeded to attempt to backtrack the statement after it was immediately apparent that that was not an okay thing to say, "Oh but it's the
real
Italy" – he kept talking himself into circles and I let him.
I pondered debating him, but realizing that he clearly did not grasp the implications of the first statement, it was unlikely that he would understand any critique of the second.
Stuck in lockdown and thinking back to last year in Calabria, it really hits just how much Covid-19 has tossed our lives to the curb.
It has been interesting to witness how different people are handling different types of loss. How one person can make more of a fuss about losing a wedding when others are saying goodbye to their mother's without the closure of a funeral, and in some cases without even a real goodbye.
I always wonder what kind of lives people have lived when they make assumptions that things will go to plan. People that take a maxed out loan on the assumption that they will still have the same job next year; or people that hold baby showers while the mother is pregnant, assuming there will be no complications and the child that the mother is carrying will be born. Nothing in life is guaranteed.
The relative who's obituary I spotted in Calabria last year has since had a grandson named after him. Another Diego Montemurro lives in Mangone.
The day after lockdown was declared in London, I was walking past the green grocer and found Nespoli. It was the first time I had ever seen them outside of Italy. They were perfectly sweet, just like the ones I had in Calabria.
︎